Introducing Pitbull Pro!
A program by Cheryl
uberfox@hotmail.com
Features
* Chat (including channels)
* Private Chat
* Group Chat
* Share images in chat for all to see (or privately for only your friends to see fully encrypted)
* Fully Utf8 (Unicode)
* Nudges (Like the good old MSN days)
* Unlimited smileys (comes with over 2,170+) all smileys are easy to add/remove and you can create and share your own smileys using standard .txt files for their config
* Can use animated Smileys (.gif etc) and comes with thousands of them
* Create your own smiley packs and share them with other users also users can see your custom smileys even if they do not have your pack installed (you can download dozens of packs from the dev server)
* Use stickers in chat and even create your own and of course other users can see your stickers regardless if they have your pack installed or not
* Comes with a number of sets (you can define your own and share them) that allow you to pick a set and automatically replace all :) etc smiley codes with the different codes of the given smiley set such as using Piggy smileys instead of default ones
* Thouands of usericons to choose from and you can even create your own for others to see and be unique and stand out
* Multi-threaded news system supporting formatted rich text with images and file attachments
* Browse server files (with a great explorer like file/folder viewer) and Download and Upload files and even entire folders of any size and resume where you left off if you lose connection or start again later
* Share gigantic files and even entire folders (no need to zip the folders!) in private chats with other users fully end to end encrypted with full resume capability
* Create custom [Tags] (similar to KDX) which be added to folders to change privileges for any/all user specified by the tag and give ownership of folders the tag system supports a wide array of features see screenshots below
* Many admin features and tools to keep your server safe and control who can do what
* Join multiple servers at the same time all organized into tabs
* Includes AES-256-bit Encryption with 4096-BIT RSA Public Key for full encryption on the primary socket and the file transfer socket for total and complete powerful encryption
* End to End encryption for private/group chat actions
* You can index then browse indexed servers offline using the handy database explorer and even use the database to find files you wish to
* You can set a welcome message to automatically send to people that supports variables such as $Name
* Has a powerful account manager that lets you assign *groups* to accounts and auto select+edit all the accounts that use that group at once also band selection highlights all priviledges the accounts have in common and you add/remove from all at once
* Optionally log all your chats and server messages so you never lose anything
* Stores all settings and configs etc in JSON so it is easy to read and manually edit also other programs can read it too!
* Unlimited Support with bugs often fixed within hours
* Easy to install and use
Latest download ( 5.1.0 )
Click here to download and begin using Pitbull Pro!
(If the version number above has changed you should probably download the new version we make big improvements all the time)

Required Runtime Libraries
Microsoft .NET Framework 4.8
Microsoft Visual C++ Runtime 2010
Microsoft Visual C++ Runtime 2015-2022
(These must be installed for Pitbull Pro to work properly!)

Make sure to read the Readme.txt!

Remember please report any bugs to Cheryl or the DEV server.

Go back to UberSoft.org

Here is a view of the main window while connected to a server showing the servers chat and user list etc

Here is a private chat showing the inline images and emoticons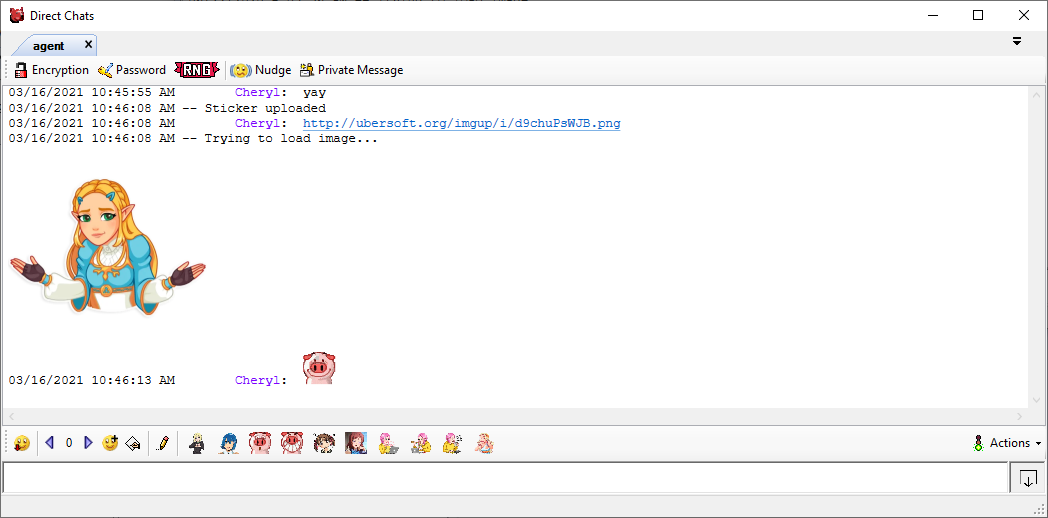 Join itbull servers with ease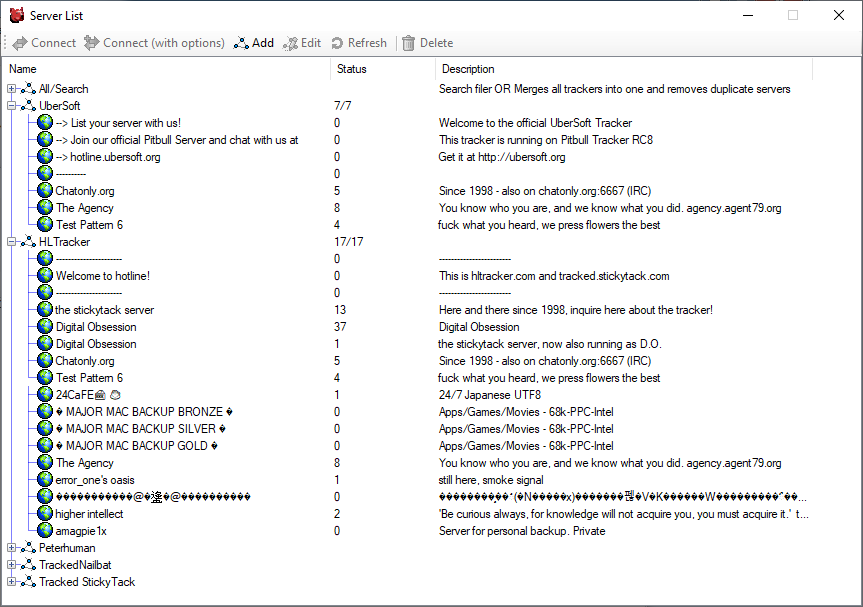 Save your favourite servers with login/pass to rejoin at a later date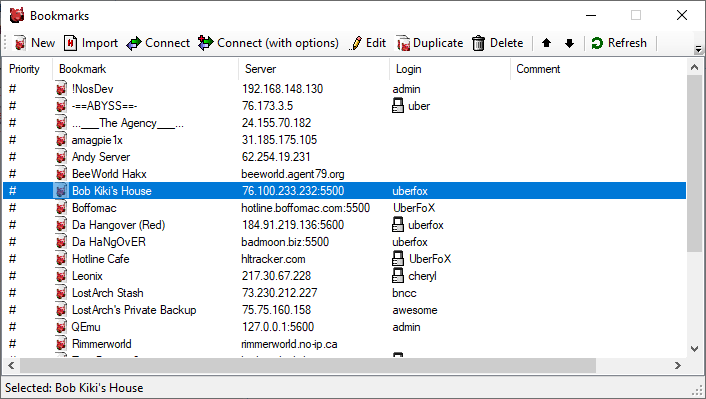 Download/Upload and share files and build your community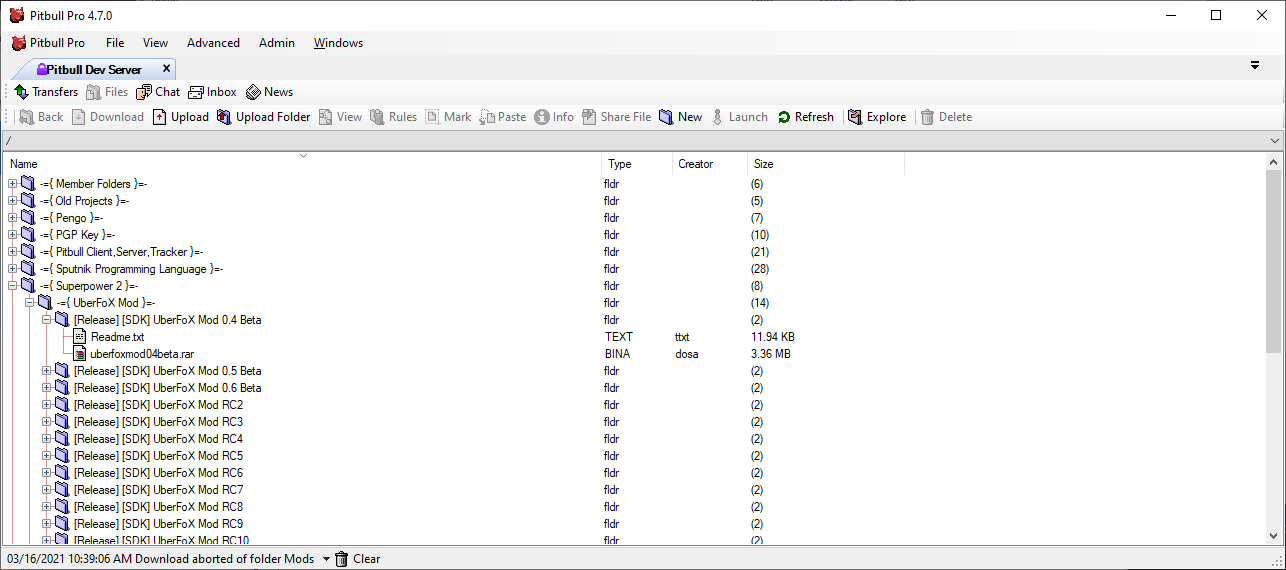 A look at downloading a file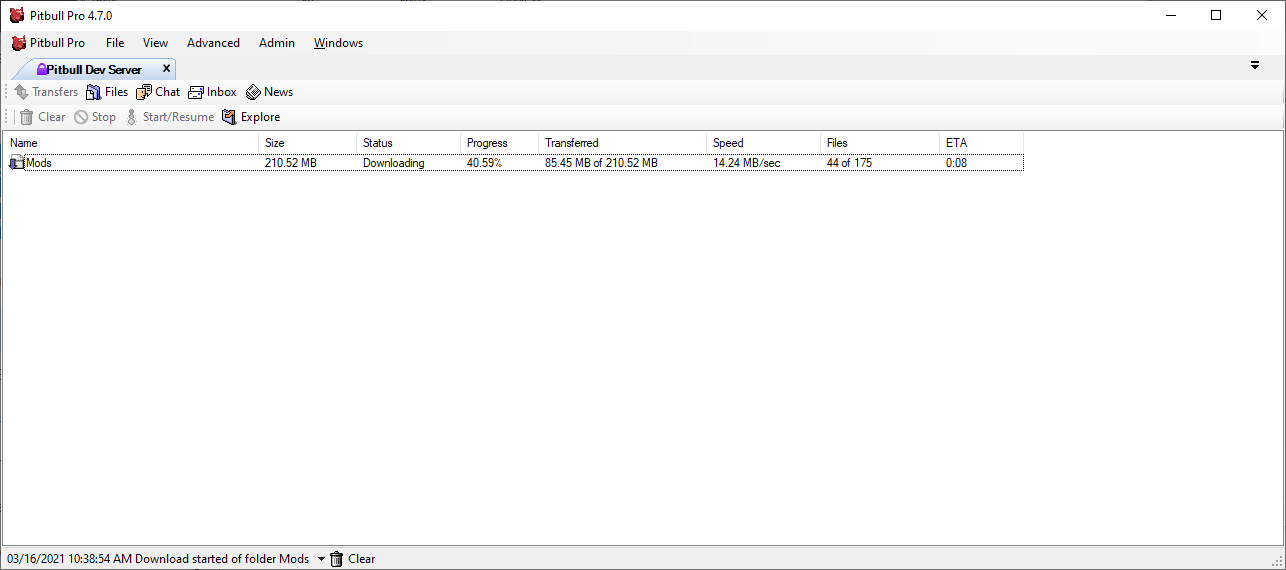 Disconnect or Ban annoying trolls with ease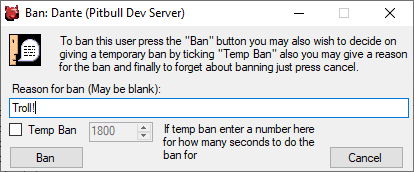 Easily manage accounts on your server with band selection, multiple account modify and highlight stats they all have in common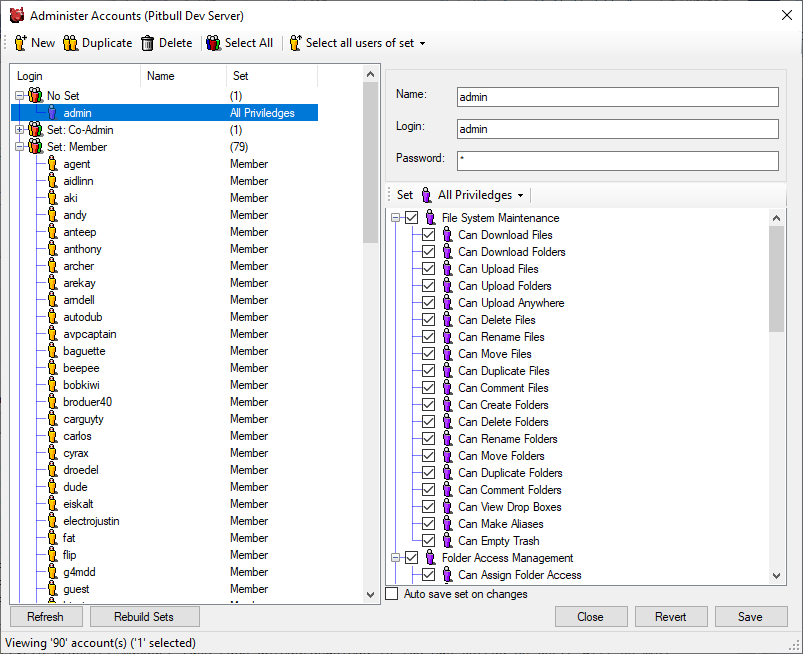 Easily make new accounts and get a random pass if you wish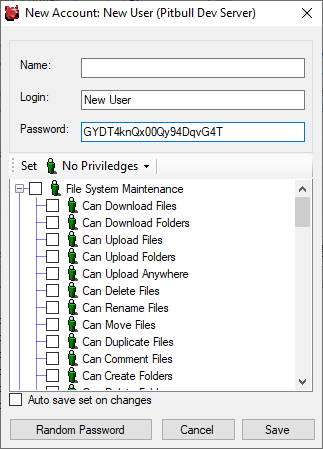 Style your name with thousands of icons


Or maybe use custom icons instead?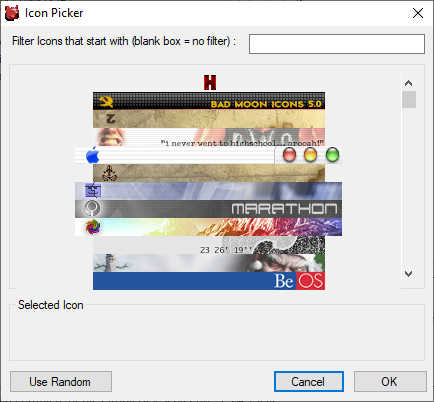 Post on message boards (of course smileys are supported)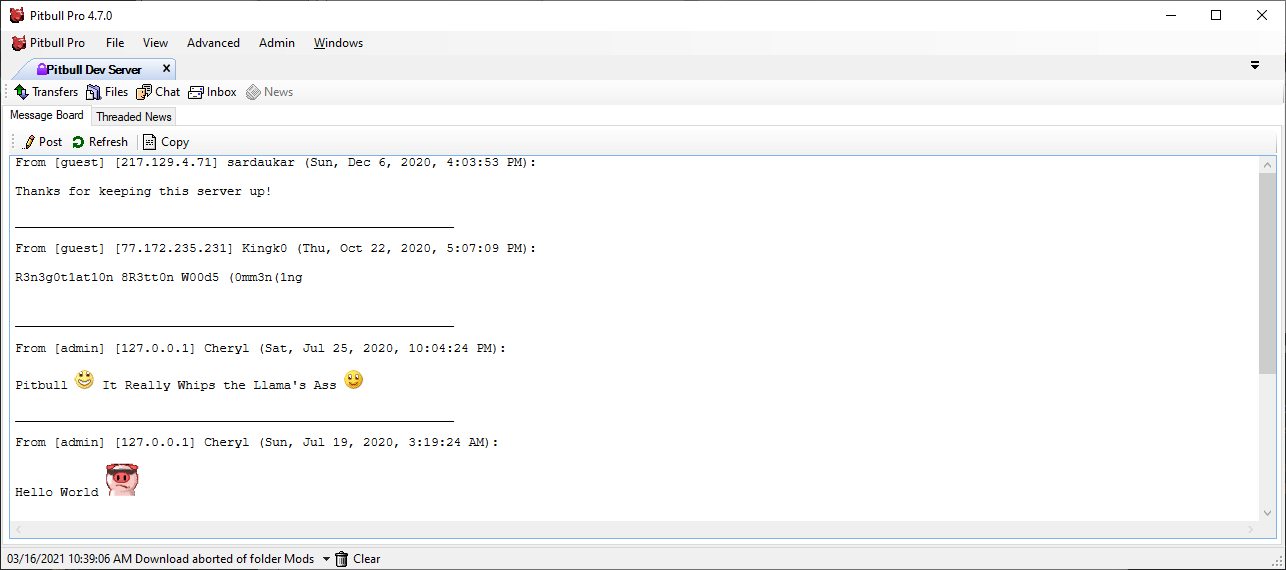 Post on multi-threaded message boards with smileys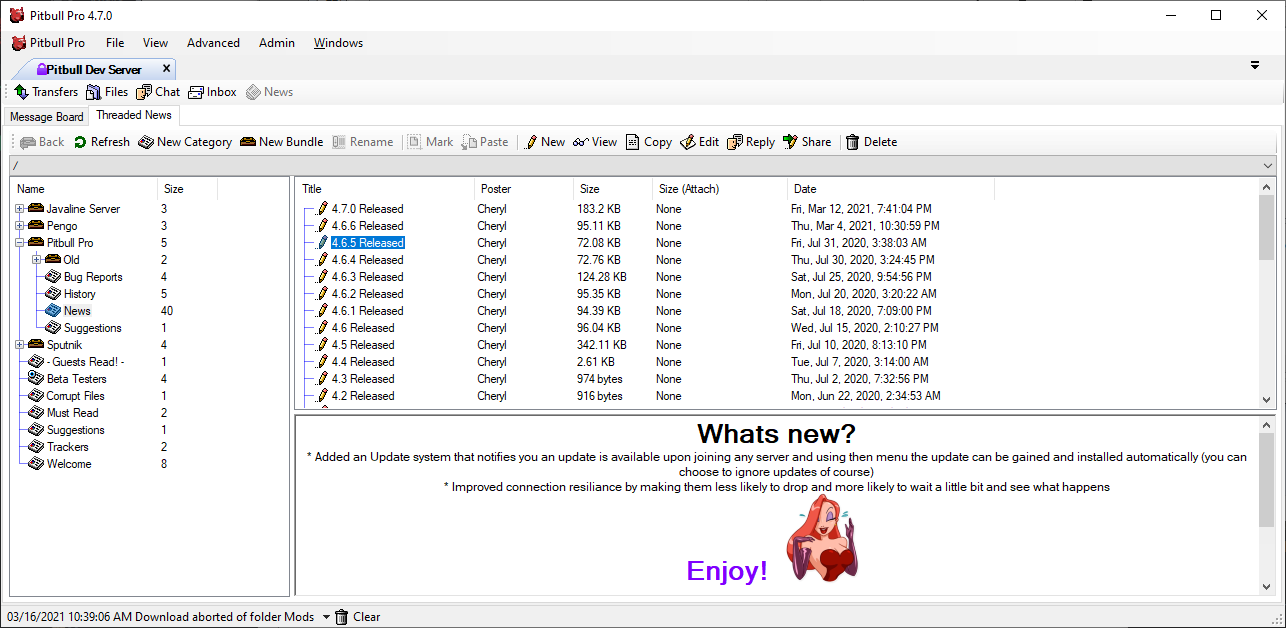 The article explorer that lets you popup articles and read them individuall you can use the 4 navigation buttons to move around in the topics without having to click on the articles to open them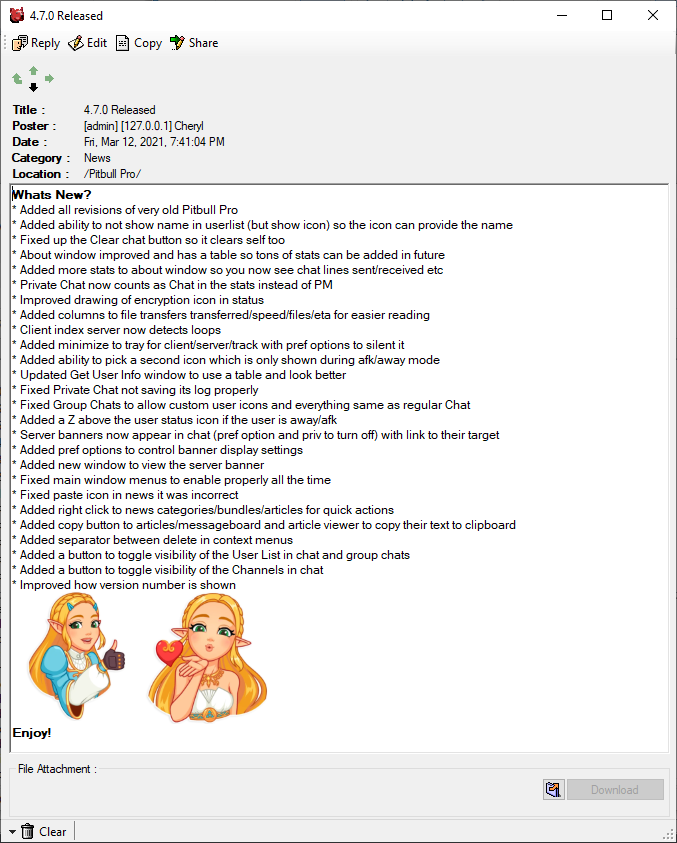 Secure your connection from bad guys with powerful AES-256bit RSA-4096bit encryption!
See that padlock next to tab? It means secure connection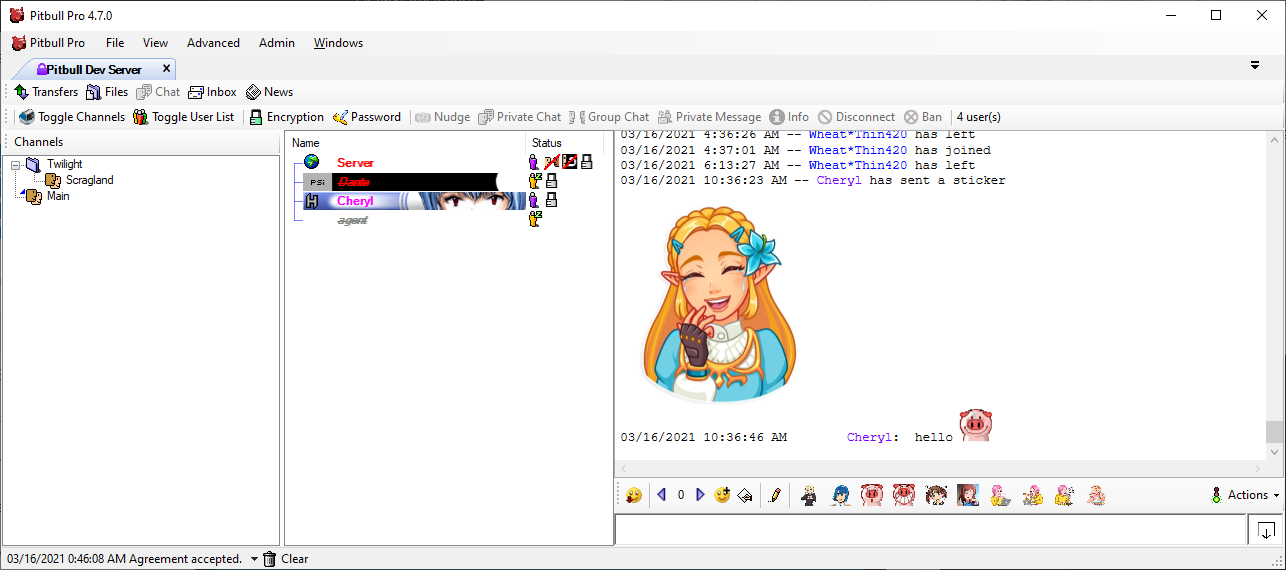 Encryption tab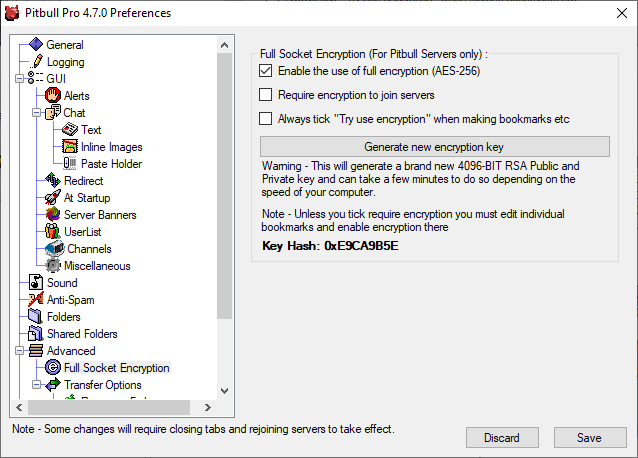 Index servers and find files easily (Pitbull Server will index for you and send the index file to you so you dont need to index it)


Edit folder access information so you can decide how a folder behaves such as allowing people full admin powers over their own folder or just allowing people to upload to a specific folder or perhaps sharing a folder with multiple people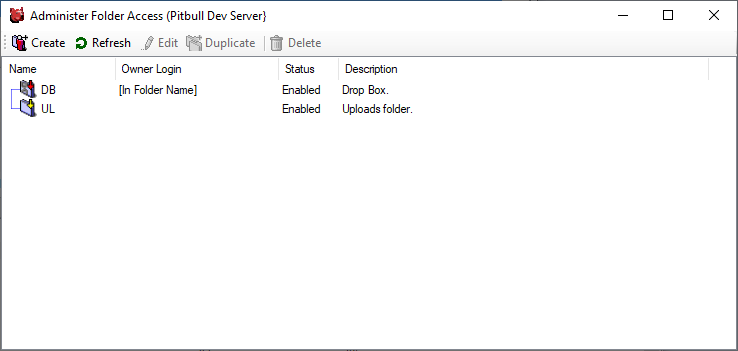 The folder access editor is very powerful and offers a wide array of features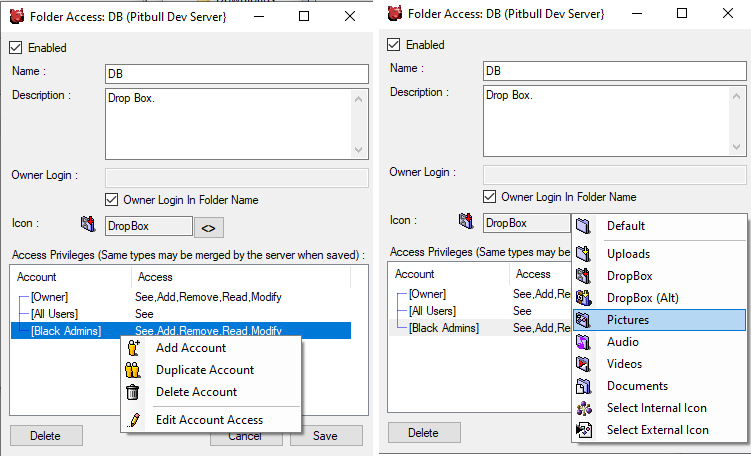 Here is the privilege selector for a given rule (have as many rules as you like on a single tag)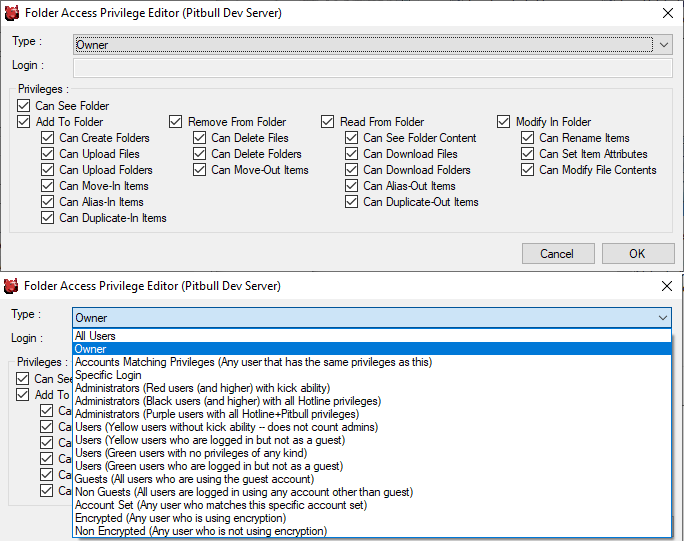 Easily assign tags by right clicking on folders or while creating a new folder etc etc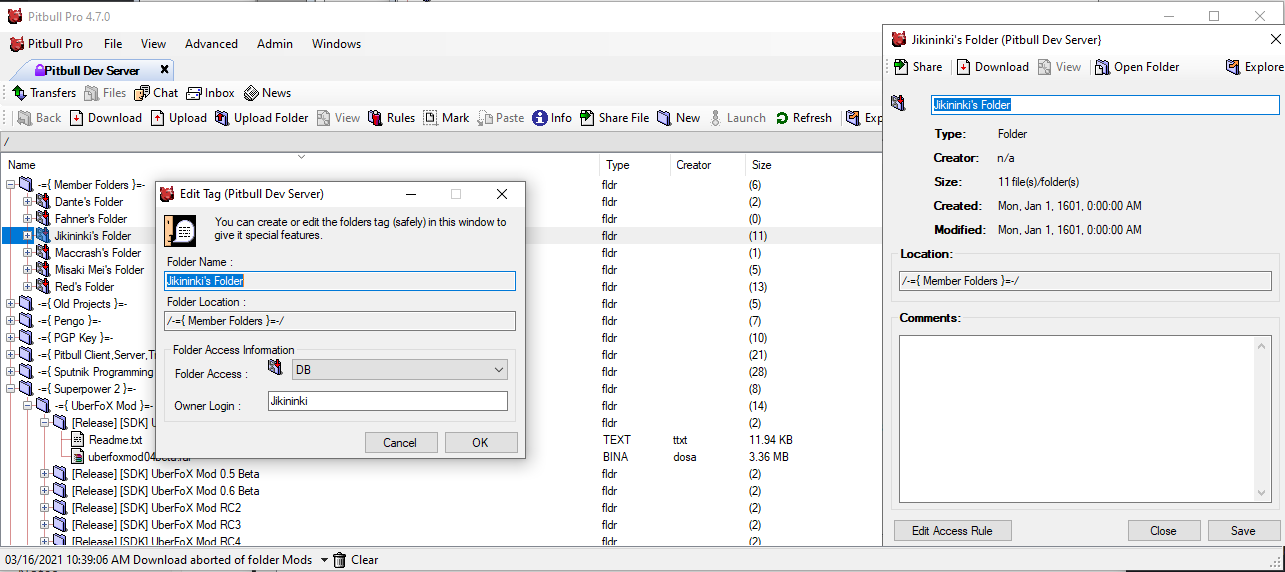 We hope you enjoy Pitbull Pro! as much as we enjoy making it.